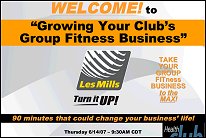 Fitness Industry "Content Delivery"
HCMI provides online content delivery via our advanced Online Training & Meeting System that provides Webinars, LIVE Online Trainings and Product Information Events. HCMI recently partnered with Les Mills International to deliver the highest attended Webinar in the history of the Fitness Industry with over 180 in attendance. HCMI is scheduled to provide Webinars for some of the biggest service and product providers in the industry over the next several months so contact us right away if you would like to schedule an event for your company as slots are filling up fast. More Info...
Online Staff Training & Hiring System
With over 30 years of experience owing, operating and consulting with Health Clubs, HCMI has developed an Online Staff & Manager Training System that will increase production with existing Staff while assisting your Club in the hiring and training process. It is a known fact that with an average of 200% turn-over in the industry, Clubs are always trying to find a better way to locate, hire and train new Staff. This online system will help you screen potential new hires while training them on the "Nuts & Bolts" of Membership Sales, Operations & Customer Support. HCMI clients save thousands of dollars and hundreds of hours every month with this system as they are spending time on qualified individuals that are being trained everyday through online videos and live production meetings. More Info...
Online Checklist & Goal Setting System
The Management at HCMI are Club Owners with multiple locations and there was always a challenge of accountability wth Staff. With this in mind, Steve Main started to develop a system that would enable him to see what everyone was doing on an hourly basis from any computer with an Internet connection. This has continued to devlop and now there are checklists for every Staff Member including Managers, Sales, Front Desk and even Personal Trainers. It's all about doing the RIGHT set of "Repeatable Processes" over and over to consistently produce positive results in every area of your Club Operations. More Info...
Internet Lead Systems
HCMI now has incorporated 10 years of Internet Marketing experience into their menu of products and services. These hot "New Member Leads" are converting at around 80-90%. These high converting leads come in daily via email and are also pushed to an online lead management website that provides tracking, web stats, multi-user lead assignment, unlimited auto-responders, mass email capabilities and much more. HCMI guarantees the best ROI with a lower Cost Per Acquisition then any other type of advertising. HCMI does offer market exclusives, so call today to see if your market is still available.

To be included in this exciting training program call us toll free at (800) 507-6378.