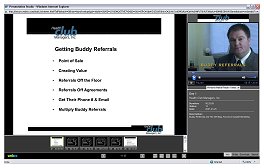 Health Club Managers, Inc. offers the following Online Training Programs that also assist Clubs in locating, hiring and training new Sales Staff and Managers.
Video On-Demand Training Program:
This Online Training System features over 25 training videos on Sales, Closing, Overcoming Objections, Setting Appointments, Outside Marketing, Front Desk Operations, Buddy Referrals, Corporate Sales and more. We can track when your Staff logs in, what videos they watched, how much time was spent and we can see how they did on the test questions. * View Sample Trainings Video Clips atů www.healthclubmanagers.com/On-Demand
LIVE Daily Video Trainings:
These LIVE Online Video Trainings include 15-20 minutes of interactive training on Membership Sales techniques and strategies. Subscribers can interact with questions, comments and even role playing. These trainings are held four times daily at 11am and 4pm PT & ET, 7 days a week, 365 a year! * View a Sample Daily Training Video Clip atů www.healthclubmanagers.com/daily
LIVE Monthly Training Webinars:
These Advanced Online Training Seminars cover various subjects on Membership Sales and Operations. These trainings are normally 40-45 minutes of extensive training with a Q&A session at the end to give the attendee the chance to interact and get their individual questions answered. * View Sample Webinar on Corporate Sales atů www.healthclubmanagers.com/webinar

To be included in this exciting training program CLICK HERE or call us toll free at (800) 813-1280.