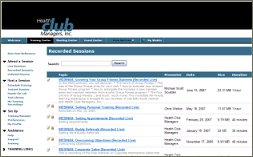 Health Club Managers, Inc. offers the following Online Staff Training and Management Programs.
Online Staff Training & Hiring System:
HCMI's Online Training System features over 30 On-Demand Training Videos, LIVE Daily Production Meetings twice a day, 7 days a week and LIVE Monthly Training Webinars that feature some of the most well known Teachers, Traners and Consultants in the Health & Fitness Industry. iN addition, our On-demand program has a built-in filter system that enable you to hire better Staff members for your club.
View Sample Trainings...
Online Staff Checklist & Goal System:
The Management Team at HCMI have put together an "Online Staff Checklist" system with "Repeatable Processes" that will have Managers and Sales Staff working way beyond the normal level of production while giving even an Offsite Owner or Regional Manager constant updates on Goals, Sales, Buddy Referrals, Operations and more.
View Demo...

To be included in this exciting training program CLICK HERE or call us toll free at (800) 507-6378.